on
June 26, 2010
at
12:00 am
If you need some audio with your visuals, try this.
Well that's it for Chapter 2! Can you believe it? I've been working on this since August 20th, 2009… and finished one day earlier than I had scheduled last fall :) Yus!
Thank you all so very much for reading. I'm going to write a proper thank you on my LJ later since this was such a tough year in so many respects, but also one of the most productive periods I've ever had.
Starting on Monday the 5th of July I will start to post the elusive sketch version of this chapter (the one that it seems like everyone except you has read already). I'm going to be posting at the same rate that I did back when I did them, which is to say 2 pages a day, so there will be a lot to see :) That should take about 4 weeks. After that will be the start of Chapter 3, and I will be posting regularly since I will have time to build a buffer. I will also be making some much-needed site edits and updates, as well as finally updating the Meekipedia (you can see I've already started on some articles). And getting ready for SDCC!
Anyways, I hope you have all enjoyed Chapter 2. I suggest you go back and read it again so you can pick up all the details that I hid in there. And get ready for Chapter 3, it is going to be pretty wild…
YOUR FRIENDLY OBLIGATORY AND OMNIPRESENT PREORDER MESSAGE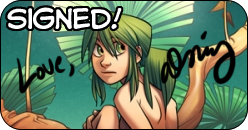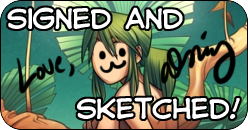 Keep in mind also that, if you find the shipping to be ultra unbearable, these comics will be distributed worldwide through Diamond! Which means you may be able to just got your store and pick up a copy, though it will not be signed.